Today's weddings seem to look at ordinary things in a different light. Nowadays, it is not uncommon to see barns as wedding venues and ladders, mirrors, and chalkboards as decorations. Combining weddings with a classroom-like setting never clicked with wedding organizers before—until now. If you're the type who is into unique, rustic-themed weddings, then this list is for you.
Photo from www.vintagebash.ca/decor/chalkboard/
Vintagebash is at it again with unique and quality vintage wedding decorations that will surely make your wedding feel classy and old school. There are a lot of designs to choose from for that perfect chalkboard decoration that you can use as a welcome board, a drinks menu board, a message board, etcetera.
Photo from www.marvelleevents.com/rentals/chalkboards-signs/#jp-carousel-1614
Marvelle Events has 100 unique and creative Chalkboards and Signs available for rental. They can have these wonderful rental pieces shipped bare for you to chalk them yourselves or they can also offer Chalking services for all your needs. Easels are also available for all sizes of frames. They are a boutique style company that offers an intimate service that will have you feeling like a friend, not just a statistic.
Photo from www.joesprophouse.com/en/rentals-by-category/decor/chalkboards-message-boards
Joe's Prop House's love for what they do comes through their diverse collection of forever growing props and décor furnishings.  Every piece new and old that have been collected throughout the years has a story. They are far more than just a rental company; you can call them storyteller collectors. Go over the things that they have collected so far and are offering for rent so that you can make your own story, too.
Photo from www.etsy.com/ca/listing/467075955/small-chalkboard-small-framed-chalkboard?ref=market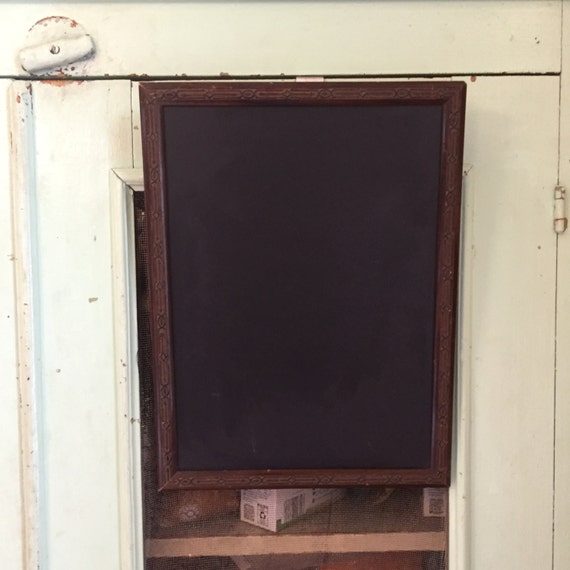 This Art Deco Chalkboard from Etsy is petit but not too small and is the perfect size for to-do-lists and menus. The size of this chalkboard makes it convenient for packing in case of travel or is perfect as wedding decoration. Adding an art deco feel in a wedding reception where every square inch is vital and will surely add spice and character to your wedding reception.
Photo from torontoeventrentals.com/Rustic-Wedding-Decor-Toronto-Rentals/
Toronto Event Rentals' rustic chalk board is great for writing signs, messages and greetings. For more impact, use colored chalk for your wedding. Surely, Toronto's largest supplier of rustic furniture and vintage decor for weddings, parties and corporate events will be the perfect place to look for decorations for your special day. Their rustic decor are beautiful and unique making it ideal attraction to your event. Your guests will notice how authentic each piece is and will help you to create that perfect vibe and atmosphere.
Photo from www.mcleansherwood.com/products/ycbf08
McLean Sherwood event rentals, a family run business from the beginning, have prided themselves in quality equipment and exceptional service in the party rental industry. Being actively involved in the Canadian Rental Association and the American Rental Association has allowed them to stay on top of the changing trends in the wedding and corporate events arena and their close working relationship with their caterings ensure that your events are planned and produced with seamless effort.
Photo from www.southerncharmvintagerentals.com/chalkboards-and-frames/
Southern Charm Vintage Rentals joyfully helps bring your inspiration to life with their large selection of over 120 cake stands, more than 100 chalkboards, and countless other props including vintage accent tables, chandeliers, candelabras, mirrors, mason jars, ladders, luggage, crates, tubs, vintage whimsy and more. They specialize in creating romantic, vintage sweets tables, fun beverage stations, inviting vintage receiving tables, and other vintage vignettes to create a charming wedding or event that will leave everyone's heart a flutter. Whether your version of vintage is elegant, rustic or somewhere in between, they will be there to passionately help you pull it all together.
Photo from mashedevents.com/rental-collection/signs/chalkboards/
In Mashed Events, they simply love everything vintage! They also love being unique and creative and putting fun spins on something that has already been done in order to make it different and better. They promise you undivided attention to detail as well as creativity, uniqueness and the utmost in customer service.  This is your special day and they believe that it should reflect you and what you love.  They also promise to work with you to make this happen through phone calls, emails and even on-site consultations if necessary.  At the end of the day, Mashed Events wants their clients to be happy and to look back at their special day and still be wowed by it 30 years later.
Photo from www.rusticcountryweddings.ca/gallery.php
It is said that Rustic Country Weddings is Southern Ontario's company of choice for all of your country themed rental items. From rustic harvest tables to reclaimed barn board signs, oak barrels and everything in between, they can provide it all. Rustic country weddings are the newest trend for couples looking for a unique wedding experience. Long gone are the days of traditional banquet halls because today's couples are now looking for unique rustic locations that combine romance, country charm and a beautiful setting all in one.
Photo from vintagerentals.ca/product/white-wood-framed-chalkboards/
Vintage Rentals and Events offer a specialized collection of furniture and accessories for all aspects of a gorgeous wedding, special event or a fabulous party. They start with the basics then add the beautiful pieces for all elements of your occasion. Add a custom chalked vintage framed chalkboard to welcome guests, say Thank you, chalk a dinner menu or bar menu, seating plans, the possibilities are endless. Custom chalking is also available upon request.